Oxford Economics White Paper
PREMIUM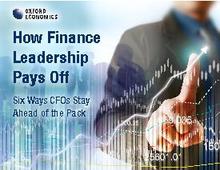 A new Oxford Economics white paper details findings from a global survey of 1,500 finance executives showing what separates the leaders from the rest of the pack. The answer? They're taking a different look at their role in the organization, and they're increasing efficiency and business performance through spend management.
Increasing result by controlling costs.
Download the white paper to see how companies with five to 10 percent profit margin growth are more than twice as likely as less profitable companies to rate themselves "very effective" at T&E expense management. Leaders understand the role cost control plays in overall performance, and they are taking action.
What else are top financial leaders doing differently?
They have strong influence beyond the finance function.
They drive strategic growth initiatives.
They improve efficiency with automation.
They are very effective at core finance processes.
They collaborate regularly with business units across the entire company.
They work closely with GRC and are well equipped to handle regulatory change.
Get all the details from Oxford Economics and see how spend management can help your business reach its goals.
Gain access to all premium content once you fill out the form.
Please share some information about yourself to receive premium information that can help you solve the major travel and expense challenges businesses face today.
Concur respects your privacy. The information you provide us is intended for internal use only, and we will not share, sell, or distribute your information. View our privacy policy. You will receive educational information and news about Concur products and services.