Market Guide for Travel Expense Management Software
PREMIUM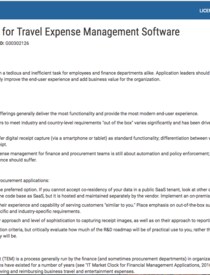 Submitting expenses is often a tedious and inefficient task for employees and finance departments alike. Application leaders should evaluate how modern TEM applications can substantially improve the end-user experience and add business value for the organization.
Gain access to all premium content once you fill out the form.
Please share some information about yourself to receive premium information that can help you solve the major travel and expense challenges businesses face today.
Concur respects your privacy. The information you provide us is intended for internal use only, and we will not share, sell, or distribute your information. View our privacy policy. You will receive educational information and news about Concur products and services.