Integrated travel and expense management: The benefits of an end-to-end solution
PREMIUM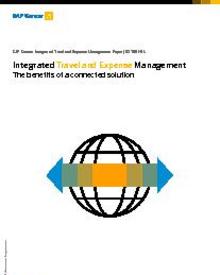 Businesses have not always seen a connection between travel and expense (T&E) management. But since the majority of expense line items are a result of business travel, companies are increasingly considering the use of one solution to cover both processes. Download this Whitepaper to find out why and what the benefits are of Integrated T&E Management.
Gain access to all premium content once you fill out the form.
Please share some information about yourself to receive premium information that can help you solve the major travel and expense challenges businesses face today.
Concur respects your privacy. The information you provide us is intended for internal use only, and we will not share, sell, or distribute your information. View our privacy policy. You will receive educational information and news about Concur products and services.