How leading CFOs stay ahead of the pack - Oxford Economics research
PREMIUM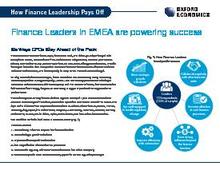 Discover the six ways leading CFOs stay ahead of the pack, the rewards of leadership, why collaboration is the magic ingredient for success, and the action points that will help you become a finance leader in the revealing new research of 1,500 finance executives from Oxford Economics and SAP.
Gain access to all premium content once you fill out the form.
Please share some information about yourself to receive premium information that can help you solve the major travel and expense challenges businesses face today.
Concur respects your privacy. The information you provide us is intended for internal use only, and we will not share, sell, or distribute your information. View our privacy policy. You will receive educational information and news about Concur products and services.