How Finance leadership pays off: Finance leaders in EMEA are powering success
PREMIUM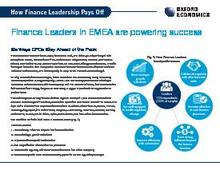 The business environment in Europe, the Middle East, and Africa (EMEA) is fraught with disruptions. Some, like Brexit and the Mediterranean refugee crisis, are local phenomena. Others, such as the Trump presidency in the U.S. and saber-rattling in North Korea, unsettle the region from afar. Add unexpected crises like the recent ransomware attack on Britain's National Health Service, and there's plenty to keep CFOs in EMEA awake at night.
Gain access to all premium content once you fill out the form.
Please share some information about yourself to receive premium information that can help you solve the major travel and expense challenges businesses face today.
Concur respects your privacy. The information you provide us is intended for internal use only, and we will not share, sell, or distribute your information. View our privacy policy. You will receive educational information and news about Concur products and services.