Financial Leaders Must Embrace T&E Solutions Strategically To Drive Growth And Innovation
PREMIUM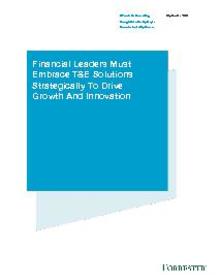 Managing company spending is only getting harder, which is why 73% of companies are actively updating or planning to update their travel and expense management (T&E) solutions within the next six months, according to the survey. Those new solutions, the research says, must be user friendly and business ready.
Gain access to all premium content once you fill out the form.
Please share some information about yourself to receive premium information that can help you solve the major travel and expense challenges businesses face today.
Concur respects your privacy. The information you provide us is intended for internal use only, and we will not share, sell, or distribute your information. View our privacy policy. You will receive educational information and news about Concur products and services.