EMEA Analyst Report: GBTA EU Business Traveller Study.
PREMIUM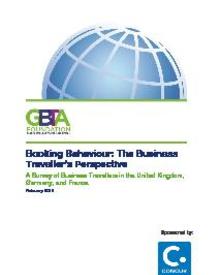 Booking Behaviour: The Business Traveller's Perspective. This Travel Report was created in partnership with GBTA which includes research on business travel in the UK, Germany and France with trends and data points around pre-booking, booking policy and booking behavior.
Gain access to all premium content once you fill out the form.
Please share some information about yourself to receive premium information that can help you solve the major travel and expense challenges businesses face today.
Concur respects your privacy. The information you provide us is intended for internal use only, and we will not share, sell, or distribute your information. View our privacy policy. You will receive educational information and news about Concur products and services.