Demand more from your travel & expense data
PREMIUM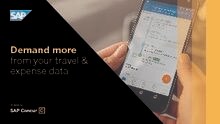 The role of the modern finance leader becomes more complex every day. However, the underlying responsibility remains the same – to manage the bottom line.
Travel and expense spend is the second largest operational cost after payroll, but increasingly complex to manage. Employees are spending money in different ways, they expect a simple user experience and they have more booking options available to them than ever before. How can you take control?
Gain access to all premium content once you fill out the form.
Please share some information about yourself to receive premium information that can help you solve the major travel and expense challenges businesses face today.
Concur respects your privacy. The information you provide us is intended for internal use only, and we will not share, sell, or distribute your information. View our privacy policy. You will receive educational information and news about Concur products and services.